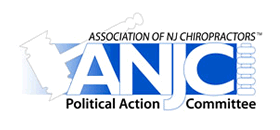 Working Together Makes Changes for Our Patients and Practices
ONLY WITH YOUR SUPPORT the ANJC PAC is able to fight for your patients and your profession.
Fight For Improved Access to Chiropractic Care
Fight Insurance Exploitation of Patients
Fight For Pro-Chiropractic Legislators
Fight To Improve Veteran's Access to Chiropractic
Fight Insurance Company Bias and Inequities
Fight For Pro-Chiropractic Legislation
Every NJ Chiropractor Needs to support ANJC PAC
Now, More Than Ever!
Dear Colleagues:
Simply stated, the time is now to donate to ANJC PAC in order to help support legislators who are chiropractic patient-friendly and who will work to stop abuses against our patients and profession.
One of ANJC's highest priorities focuses directly on Trenton in order to drive legislative issues that best serve all NJ chiropractors in their every day practices.
The ANJC PAC utilizes funds on a continuous basis to meet legislators at their legislative fund-raising functions in order to create opportunities to discuss, explain and persuade them that a particular chiropractic issue is important and should be supported. We also work to educate legislators when there are issues that may be harmful to our patients or potential patients.
You can make a difference!
Join Our Efforts to Support the Chiropractic Profession in New Jersey
Your donation to the ANJC PAC is an investment in your profession that will help provide the funds needed to attend legislative functions supporting chiropractic-friendly legislators and educate those legislators about the important issues that impact our patients and profession.
Join the ANJC PAC Today!