The Association of New Jersey Chiropractors (ANJC) is excited to announce the celebration of October as National Chiropractic Health Month.
With the powerful theme, "Chiropractic: Relieve, Restore, Resume," this month-long event emphasizes evidence-based, non-drug approaches like chiropractic services to alleviate pain, restore function, and enable individuals to return to their most cherished activities.
"In these times, where chronic pain is a pervasive issue affecting one in five adults in the United States, chiropractic care serves as a beacon of hope for many. We are honored to receive a proclamation recognizing October as National Chiropractic Health Month in New Jersey, which underscores chiropractors' pivotal role in healthcare," expressed Suzanne Corson, ANJC Executive Director.
In a commendable initiative, New Jersey was the first state to receive a National Chiropractic Health Month proclamation in 2023. The American Chiropractic Association recognized this accomplishment and shared, "It's official — New Jersey has the first #NationalChiropracticHealthMonth proclamation of 2023! Thanks to Governor Phil Murphy and the Association of New Jersey Chiropractors for showing your state how to #RelieveRestoreResume with chiropractic!"
The ANJC proudly mirrors this sentiment and appreciates the American Chiropractic Association for spotlighting our joint efforts. The proclamation from Governor Philip D. Murphy reiterates the state's commitment to promoting the well-being of its citizens.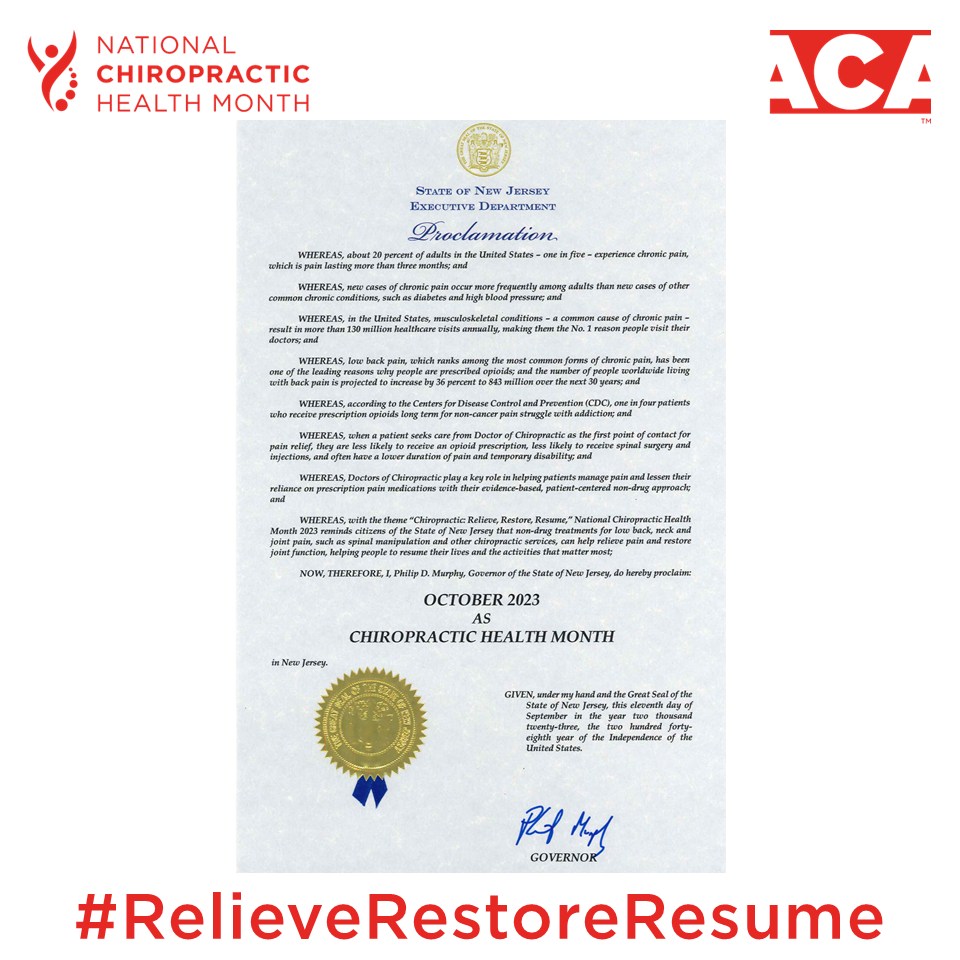 Chronic pain, especially stemming from musculoskeletal conditions, remains the foremost reason people consult their doctors. By emphasizing non-drug treatments such as spinal manipulation and chiropractic services, the proclamation shines a light on the holistic and effective methods available to tackle pain and restore joint function.
Pain Management & Opioid Alternatives: Quick Facts
Chronic pain, notably back pain, is one of the most prevalent and debilitating health challenges in the U.S.
Relying solely on prescription opioids to manage chronic pain, particularly in the long run, isn't optimal.
Clinical guidelines advocate non-drug treatments as primary choices for managing common musculoskeletal conditions.
Early chiropractic intervention for back pain potentially decreases the chances of subsequent opioid prescriptions.
The ANJC encourages everyone to learn more about National Chiropractic Health Month and to join us in celebrating the profound impacts of chiropractic care throughout October.