Dedicated Chiropractors Leading the Way Forward
The results for the 2023 ANJC Board of Directors Elections have been certified by the Board Secretary in accordance with the ANJC election by-laws. The elected slate is as follows:
President — Dr. Andreas Skounakis
Vice President — Dr. Victor Rossi
Secretary — Dr. Jeannine Baer
Treasurer — Dr. Alfonse DeMaria
Northeast Region:
Dr. Tom D'Elia
Dr. Dennis Long
Dr. Andreas Skounakis
Alternate — Dr. Alfonse DeMaria
Northwest Region:
Dr. Jeannine Baer
Dr. Dave Graber
Dr. Seth Rossinow
Alternate — Vacant
Central Region:
Dr. Dan Grossman
Dr. Jordan Kovacs
Dr. Kosta Linardakis
Alternate — Vacant
South Region:
Dr. Cheryl Altieri
Dr. Brian Atkisson
Dr. Victor Rossi
Alternate — Vacant
At the heart of the ANJC's success lies our Board Members' passion, dedication, and expertise. Every decision made, every policy drafted, and every initiative taken is backed by their commitment to fostering the growth and excellence of chiropractic care in New Jersey. Their hands-on involvement and steadfast dedication testify to their belief in the ANJC's mission and the chiropractic community.

We're grateful for the dedication of these outstanding individuals who give their time and talents to benefit and advance the mission of the ANJC.
About Our Board President: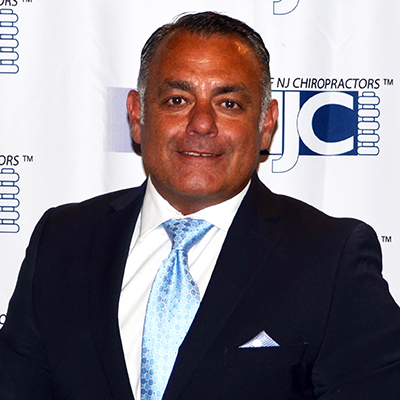 Dr. Andreas Skounakis received his undergraduate degree in exercise science, with a minor in Biology, from the University of Rhode Island in 1996. He attended the University of Bridgeport College of Chiropractic and graduated in 2001. He began working as an associate in East Windsor, Connecticut, in a multidiscipline setting.

In 2003, he started his practice in his hometown of Clifton, NJ, where he continues to practice. Realizing the challenges many chiropractors face, he co-founded RFS Billing and Consulting. He continues to be an active Association of New Jersey Chiropractors member and advocates for the profession. He is currently the chairperson for the public relations committee and represents the Northeast region on the State Board of Directors.